Objective vs perceived reality check: Guadalajara
By guest author
How can we measure quality of life? The State of the World's Cities 2012/2013: Prosperity of Cities report from the UN-Habitat programme, which focuses on the prosperity of cities, ranks cities according to criteria including environmental sustainability, social equity and inclusion, productivity, infrastructure and quality of life. But how far is quality of life based on what is actually happening around us, and how much is determined by our perceptions?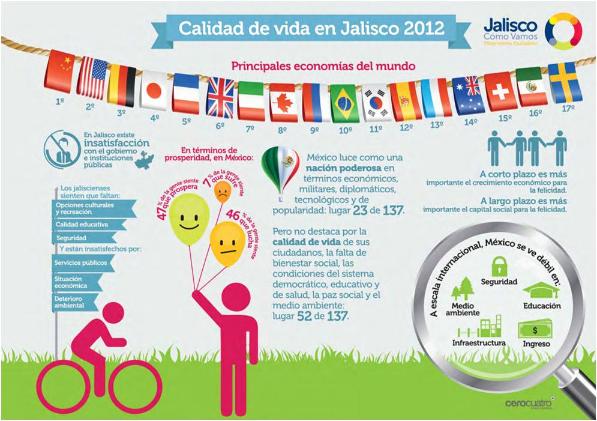 ‌
A new survey on citizens' quality of life carried out by a local NGO in Guadalajara, Mexico, Jalisco Cómo Vamos, showed a very high feeling of prosperity. A high 67% of the population declared it was prosperous. Using the Cantril scale (originally developed by Hadley Cantril and also used by Gallup for its global survey on subjective well-being), Jalisco Cómo Vamos found that Guadalajara's citizens in 2012 have a sense of prosperity closer to the Gallup Canadian average than the Mexican one. According to the Gallup 2011 survey, Canada ranked second after Denmark in terms of "thriving", that is "well-being that is strong, consistent and progressing", with 69%, whereas Mexico was 25th, behind other Latin American countries such as Brazil, Costa Rica, Panama, Argentina, Venezuela or Colombia.
How is it then possible for a city so far removed from Denmark or Canada in economic, infrastructure or institutional terms , and which faces major challenges of inequality, poverty and insecurity to report such high feelings of life satisfaction, prosperity, and happiness? To answer this question, which applies to many Latin American cities, one must consider the difference between objective material reality and subjective feelings and the importance of understanding both.
In the case of Guadalajara, citizens compensate for the institutional weaknesses and objective economic, environmental and security issues, with strong family life and friendship networks, a hardworking, optimistic and spontaneous attitude, taking both pride and pleasure in living in a city that offers a pleasant climate and still brings the promise of future happiness and development. And some of these feelings seem to be increasing: whereas 40% of the population felt they had many people they could count on in time of need in 2011, this figure rose to 57% in 2012.
Thus, material objective well-being and progress do not fully capture the sense of prosperity and well-being within a society; at the same time, the psychosocial and cultural perception of the reality of one's life does not capture most of the opportunities and problems faced by society, and thus cannot guide public policies. Only by combining both visions, objective and subjective, can we understand the full reality of a society and design appropriate public policies to reach its social goals.
Fear of being attacked impacts citizens' sense of security and consequently their quality of life, as much as actually being a victim of a crime over the previous year; hope for an economic future as much as present sources of employment; a high life expectancy as much as living happily and without stress.
About the author
Víctor Ortiz Ortega research coordinator at Jalisco Cómo Vamos. Victor is public administrator, specialized in urban studies, social policy and planning. He has worked in the public sector as a government official and academic, in private as a teacher and consultant, and various civil society organizations as a researcher and project coordinator.
Find out more
State of the World's Cities 2012/2013: Prosperity of Cities
Leave a comment*
Blog Archive