Making the shift from quantity to quality
By guest author
With post-recession growth remaining sluggish, the emerging economies must interrogate the sustainability of their development models and adapt domestic policies to promote inclusive growth and greater social equality.
Since the acronym was coined by Goldman Sachs' Jim O'Neill in 2001, the story of the BRICs (later to become BRICS) has almost exclusively been relayed in gross domestic product (GDP) terms. It has been one that emphasized size and scale where magnitude and margins propelled markets.
By now the statistics are all too familiar: In 2013, Brazil, Russia, India, China and South Africa together contributed 25 per cent to global GDP, conducted 15 per cent of global trade, and hosted 40 per cent of the world's population. By 2016, China is expected to overtake the United States as the world's largest economy in purchasing power parity terms.
The turbo-charged growth in these countries not only made many fabulously wealthy, it also catapulted millions out of poverty into the middle class. In Brazil, for example, Lula's Bolsa Familia reduced the incidence of poverty by 27% since its inception. The rapid extension of government grants and pensions in South Africa also lifted millions out of poverty. And most remarkably, in China 680 million people escaped the ranks of the poor between 1981 and 2010; a decline in poverty rates from 84% to 10%.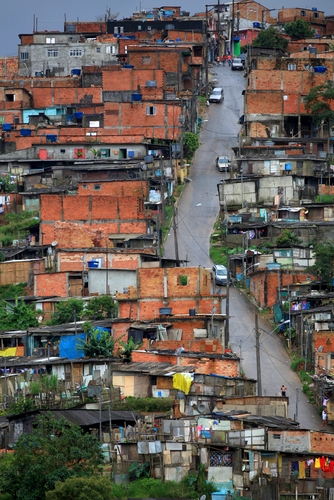 Despite incremental gains in poverty reduction, the scale remains substantial
These achievements were the direct result of superlative growth rates. Yet much more needs to be done. In Brazil around 21% of the population still live on less than $2 a day, in South Africa it is around 34%.
Of equal concern has been the exponential growth in income inequality. Current estimates of the Gini coefficients (a measure of inequality where 1 represents absolute inequality and 0 absolute equality) of China, Russia and India stand at 0.47, 0.39, and 0.44 respectively. Brazil, once regarded as the most unequal economy in the emerging world, offers the only exception to the rule. Through successful social policy interventions the country's government brought down its coefficient from 0.61 in 1990 to the present 0.54.
The fight against inequality may, however, become increasingly complex in years to come. Although the BRICS economies showed great resilience during the global crisis, they have struggled to regain their pre-recession luster. From a high of 7.5% in 2010, GDP growth in Brazil dropped to 0.9% in 2012; in Russia it declined from 8.5% in 2007 to 3.5% in 2012; in India from 9.7% in 2010 to 5% in 2012; and in South Africa from 5.6% in 2006 to 2.7% in 2012. While China achieved 7.8 per cent last year, it is almost half of the 14.2% it achieved five years earlier in 2007.
If economic growth is the only salvation, the BRICS are in for some trying times
This drop in growth will have profound implications. If we assume that steep upward growth trajectories will be the only source of their salvation, then the BRICS economies may be in for more trying times up ahead. Some of them may have to interrogate the sustainability of the development models that have given them so much mileage up until now.
Take the example of South Africa. In 2012, the country released its first long-term national development plan,Vision 2030. In its estimation South Africa will have to grow at an average of 5.4% per annum from 2012 until 2030 to reduce its unemployment figure to 6%.
Yet, given the abovementioned global conditions and the fact the country could only manage average growth of 2.9% in the three years subsequent to the recession the model will either have to be revised or targets will have to be adjusted. Brazil and India in particular face very similar types of challenges.
General elections in three BRICS countries in 2014 will be vital for domestic policy choices
But if the era of size and scale is indeed over, then the BRICS countries will have to focus on the substance and quality of domestic growth. Emphasis needs to be placed on resource efficiency, targeting improved spending and a tougher stance on corruption, but more critically also policies that promote inclusive development and greater social equality.
Whether this materializes will largely depend on two important management criteria, according to the latestBRICS study of the Bertelsmann Foundation's Sustainable Governance Indicators: steering capability and policy implementation capacity. Both entail the capacity to act decisively with as little internal resistance as possible. The prospect of general elections in three of the five BRICS in 2014, India, South Africa, and Brazil will have a definite influence on policy choices. In all three public discontent with deteriorating economic circumstances may force the hands of politicians to promise more populist, but ultimately unaffordable policies.
This article was written for SGI News.
Jan Hofmeyr is one of the authors of the South Africa country report of the SGI BRICS study. He heads the Policy and Analysis Unit of the Cape Town-based Institute for Justice and Reconciliation.
Leave a comment*
Blog Archive