New Year Resolutions
By Julia Laplane, OECD
As memories of year-end celebrations fade and New Year resolutions start to tarnish, the time has come to think about what the coming year may have in store for us. Economic prospects remain bleak, with the latest OECD Economic Outlook forecasting a "hesitant and uneven recovery" over the next two years. But as a glance at any news media shows us, however bleak our financial fortunes, non-economic topics remain very much on our minds, as people take to the streets to make their feelings known on issues from equal rights to marriage, access to education or the protection of women as well as issues such as jobs.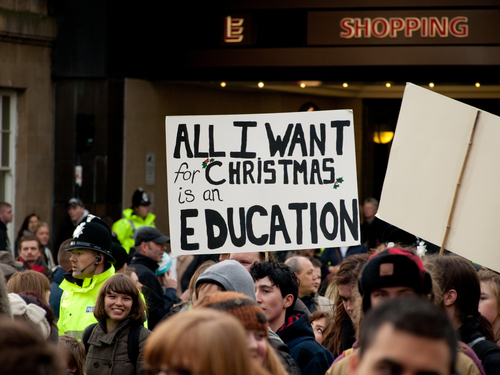 Access to education represents a universal priority, and a common source of public protest, even though in some countries it can literally be a question of life and death. Take Malala Yousafzai, a young Pakistani blogger fighting for young girls' right to education. The 15-year-old Pakistani schoolgirl was shot by Talibans in October in the Swat Valley, in a bid to stop education for girls. The incident caused outraged protests around the world, and she was the runner-up candidate for the 2012 Time Magazine's Person of the Year award, just behind their final choice, President Barack Obama.
For some, an end to the threat of violence in daily life is what concerns them in the year ahead. A shooting at a school in Newtown, Connecticut which left 26 people dead, 20 of them children, revived the gun control debate in the United States, while the brutal rape and murder of a young girl provoked unprecedented outrage and indignation in India, with protesters from India's emerging middle class and students taking to the streets to such an extent that influential journalists have referred to it as "India's Arab Spring".
Continuing high unemployment, public spending cuts and who should bear the brunt of tax increases are of course still very much on the agenda in most OECD countries. But more personal and private areas of life are raising temperatures and sparking protests too. Look at France, where between 340,000 and 800,000 people took to the streets on 13th January, protesting legislation on same-sex marriage.
Family, safety and equality are key elements to a good life. Making sure you can walk the streets safely or that you do not suffer discrimination are everyday concerns for many. Debates on these issues have been at the forefront of public attention in an unprecedented way in recent months, reminding us that beyond the economic figures people care passionately about the values which define our societies.
Leave a comment*
Blog Archive