Two revolutions for the price of one
Written by Romina Boarini.
As discussions of the Post-2015 Agenda move forward, it becomes increasingly clear that this Agenda seeks to promote a new vision of development and well-being that puts people and the planet at the forefront. The OECD Better Life Initiative, launched in 2011, builds on this same premise. Its aim is to change the life of millions of people around the world by focusing on what really matters to them. In so doing, it offers one vision of what a Data Revolution might aim to achieve.
The OECD initiative enacts a twofold revolution. It not only measures new well-being dimensions that have long been neglected in policy (for instance social connectedness or subjective well-being), but also measures them in a new way, by asking people directly how much these dimensions matter to their lives.
As part of this initiative, the OECD designed the Better Life Index (BLI). The Better Life Index, celebrating its fourth birthday in May, allows people to see how their country is doing in a number of topics that matter to them, including: community, jobs, education, environment, housing, income, civic engagement, health, safety, life satisfaction and work-life balance. Users can rate these topics according to their priorities, and can then visualise how countries perform according to their personal view of what makes a better life. They can also see whether their country is actually delivering on the topics that they consider as important. Users can share their ratings with their networks but also with the OECD, and for the first time this year, these ratings can be visualised on a new dedicated page.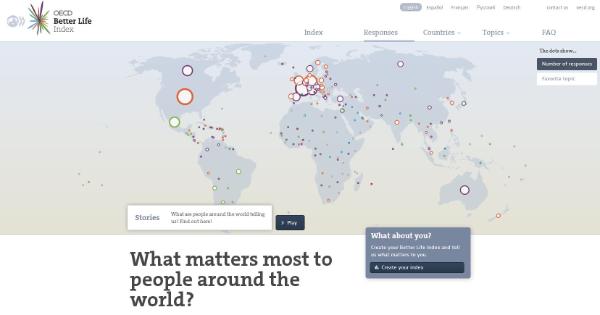 ‌‌‌
The BLI 4.0's new visualisation brings together the responses people have shared with the OECD from countries around world. This visualisation is not just a fancy new feature but also another way of empowering citizens by creating collective awareness of what matters to society as a whole. Visitors to the BLI can learn about what goes on in their country but also what citizens think about what should happen next.
So far around 60 000 people from all over the world have shared their responses. Obviously these responses cannot be considered as representatives of each individual country, both because the samples are still small and include voluntary submissions only. However, we have done some statistical analysis to address some of these limitations and this analysis has highlighted three interesting messages.
First, people seem to put more value on the topics on which they are doing well, individually or in the country where they live. For instance, people give more importance to health when they are satisfied with their health or when health conditions in their country are very good. Another interesting example is work-life balance. People rate work-life balance more highly when they are satisfied with their work-life balance but also when they live in countries where work-life balance is on average better (e.g. low working hours, greater leisure time).
Second, the only notable exception to a positive relationship between what people value and how they already do is income. People living in higher-income countries or who are very satisfied with their personal situation in terms of income are those who, in fact, tend to value income as less important.
Third, people living in countries with high levels of income inequality, tend to increasingly value jobs and civic engagement, whereas people living in countries with low levels of income inequality value environment, health, safety and housing more.
How to interpret these results? The first result tells us that societal preferences may play a key role for shaping good lives. However, it probably also tells us that achieved well-being outcomes become important "acquired rights" that people want to defend. The second result resonates well with the motto "money does not buy happiness" although, according to our evidence, it would be better rephrased as "money buys only some happiness". The third result tells us that people in high inequality countries may see jobs as an effective way to reduce disparities and they would consider political participation and engagement as an important means to that end.
Create your own Better Life Index and tell us what your priorities are for a better life!
This article was orginally posted on post2015.org.
Deixe um comentário*